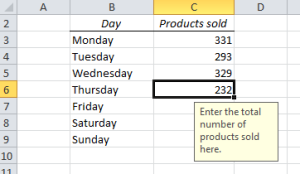 Wouldn't it be cool if you could have a yellow info note that pops up when you select the cell in Excel? Actually you can! Let's look at a little used feature of Data Validation.
It's easy and you can do it in less than a minute!
Choose the cells that you want to attach a note to and choose Data Validation from the Data ribbon (shortcut: Alt > D > L). Select the tab "Input Message" and type whatever you want. Click OK, and your message will appear when you select the cell.
Of course, you can combine this with some restrictions on the Settings tab, but you don't need to.
More easy Excel tricks:
Are you using a non-English version of Excel? Click here for translations of the 140 most common functions in 17 different languages:
Catalan
Czech
Danish
Dutch
Finnish
French
Galician
German
Hungarian
Italian
Norwegian
Polish
Portuguese (Brazilian)
Portuguese (European)
Russian
Spanish
Swedish
Turkish