It's easy to forget to refresh your Pivot Tables when you add new source data. Here's an effective solution to that problem: Add a Refresh button in your Excel report!
This is very easy, and only takes a minute:
There are 3 steps:
Step 1: Go to the Insert menu, choose Icons and type "Refresh" in the search field. Choose the icon you want, and click on Insert. Resize and place the icon where you want to have it.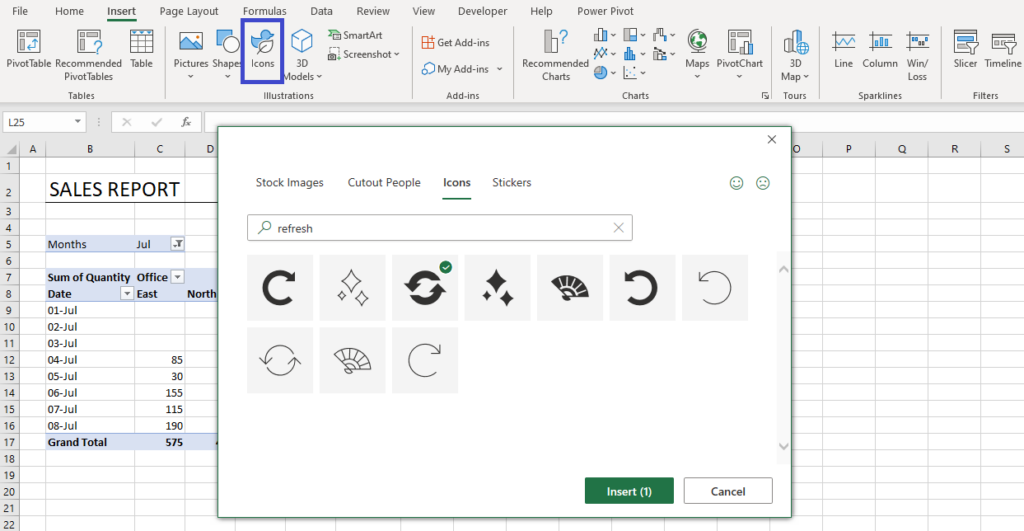 Step 2: Open the VBA editor (Alt + F11). Go to the Insert menu and choose Module. Type this code:

Sub RefreshAll()
ActiveWorkbook.RefreshAll
End Sub
Step 3: Go back to Excel, right-click on the Refresh Icon and choose "Assign Macro". Choose the "RefreshAll" macro and click OK.
The next time you add data to your Pivot Table, or you want to get the most recent data from your Datawarehouse, simply click on your new Refresh button!
Important: When you save the workbook, you need to save it as either Excel Macro-Enabled Workbook or Excel Binary Workbook!
More Excel tutorials:
Are you using a non-English version of Excel? Click here for translations of the 100 most common functions into Danish, Dutch, Finnish, French, German, Hungarian, Italian, Norwegian, Russian, Spanish and Swedish.