You do it all the time: You create a table in Excel and add the sums in all directions. Below I will show you how to sum up all the values into an Excel table in just a second:
Select all the values in the table plus one extra column and one extra row for the sums: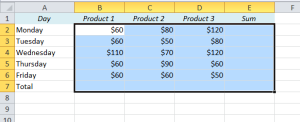 Press Alt + Equal sign (=), and Excel adds all the sums:
Are you using a non-English version of Excel? Click here for translations of the 100 most common functions.